In a couple of weeks (26 March 2020) we will install new time limit signs for parking in different areas of The Landing. These will ensure all visitors can easily access the great stores and restaurants on offer in Wigram Skies.
From 14 April 2020 the area in front of the supermarket will have a 90-minute time limit, allowing up to an hour-and-a-half for shopping. There is a 180-minute period for the car parks beside the other businesses in this area which will enable stays of up to three hours so you can dine, shop and take advantage of the great services on offer at The Landing.
We are also excited about the news that work will start soon on the Silky Otter Cinema, which will have 45 additional car parks once complete.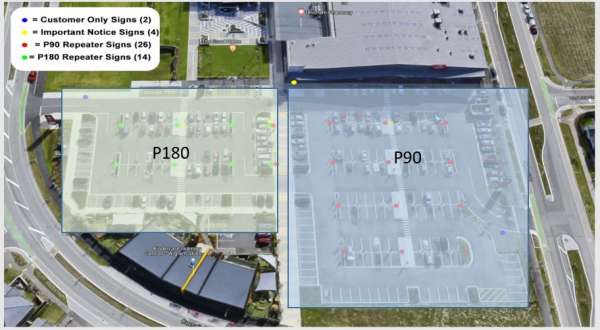 Why are we doing this?
Ngāi Tahu Property was approached by the supermarket which has been monitoring car park usage as more people come to shop at the Wigram Skies town centre. Their research has shown the numbers of people taking up parking spaces for long periods of time is beginning to have a negative impact on customers.
We agreed to work with them on developing parking restrictions which would cover the needs of customers by ensuring there will be parks available while allowing enough time for their visit.
The first two-weeks after the signs go up will be a 'grace period', giving regular visitors a chance to get used to the new parking rules. Enforcement of the time limits will begin from Tuesday 14 April 2020.
We are sure this change will make your visits to The Landing even better by making sure there are plenty of convenient parks when you arrive.