Wigram Skies town centre is rapidly growing with the recent opening of New World Supermarket.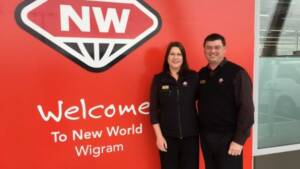 The owners, James and Karen are passionate about their fresh produce, fine cuts of meat prepared by their skilled butchers, and providing an extensive range of gluten-free products. Shopping at New World is all about the 'fresh experience'.
We've designed our store to make shopping as relaxed and easy as possible. Items are located in logical places, double-height ceilings enhance the sense of space, and there's even a barista at the entranceway, so you can enjoy a hot coffee as you wander around. We've also designed our store to be environmentally friendly, with LED lighting, CO2 refrigeration and natural light panels in the ceiling all helping to reduce our carbon footprint" says James.
Building a team with great culture has always been their goal, and they're immensely proud of the fact they've been able to create more than 100 new jobs for Cantabrians. Every member of their team, from their qualified bakers to Customer Service Specialists who operate the checkouts, are people-orientated and passionate about delivering a wonderful experience.
New World Wigram isn't a huge, faceless operation – it's an owner-operated business run by James and Karen, who, along with their two young children (who can't wait to play the ultimate game of 'shops') are looking forward to growing up in this exciting new community!