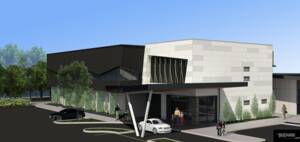 The planned Medical Centre at Wigram Skies is about to get under way with building consent issued and on site works starting later in August.
The Centre, designed by The Buchan Group, encompasses an area of 1200 square metres over two levels and is located behind the Stage 2 retail and office buildings at The Landing, Wigram Skies town centre development. The Medical Centre is linked to Stage 1 by a covered walkway between buildings and will be directly accessed off of Skyhawk Road. The materials and colour choices reflect a pallet in keeping with the rest of the town centre development. Subtle angles and folded cantilevered canopies, external walls and glazing recognise the site's aviation past.
The ground floor GP consultation rooms which are clad in graphic art precast panels, fold open discretely to allow both natural light and views to external greenery, while privacy is maintained by careful placement of perforated metal screens.
The Medical Centre, to be occupied by Wigram Health Limited, will be open for business in mid‐2016 and will provide services such as general practice rooms, radiology, x-rays, physiotherapy, acupuncture and travel shots.
This is another step in the building of the vibrant community at Wigram Skies, Ngāi Tahu Property's long term vision for the subdivision. When complete, this unique, masterplanned community will be home to around 4,000 people and provide leisure, recreational and retail services to residents of Christchurch's South West.