Construction has started at The Landing – the $40 Million town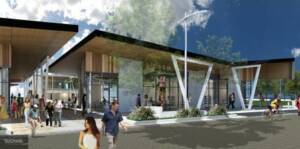 centre at the heart of Wigram Skies being developed by Ngāi Tahu Property.The first stage of the 7000m² complex will feature an architecturally designed town square and High Street style collection of restaurants, cafés, retail and mixed use community space for Wigram Skies residents and greater South West Christchurch.
Ngāi Tahu Property development manager Alan Grove says there is a huge surge in urban growth occurring in South West Christchurch with the population set to treble in the next 35 years. He says The Landing will cater to this growing market.
"The Landing will be a retail destination which will also provide new and existing residents and businesses with a variety of dining options and community services. Wigram is definitely set to take off."
Leading Christchurch construction firm Armitage Williams, which has nearly 30 years of commercial construction experience, will be building Stage 1 of the development.
Joe's Garage café, Hikari Sushi Bar, and a Unichem Pharmacy, will join a New World Supermarket, with trading due to commence in June 2015. In addition, a new Kindercare Learning Centre which will accommodate 80 children and 15 staff is scheduled to open at the same time and a veterinary clinic will open later that same year. Other community services including a medical centre are also planned for the town centre, while high density residential housing will further compliment this bustling area.
Joe's Garage is known for its premium coffee, good quality, fresh, fast food and excellent service. Joe's Garage Sumner's owners Anton and Jess Matthews agree the planning and thought that has gone into The Landing makes it an easily accessible space for customers with great parking.
"The Landing will be really easy to get to from Halswell and Hornby. It is clear the design is right at the forefront of what works well for a neighbourhood," says Anton Matthews.
The new Joe's Garage will seat around 100 in dining areas, meeting rooms and have a bar area where people can come and enjoy a glass of wine or beer any night of the week.
"We're very lucky to have internationally renowned architect and designer Charlie Nott on-board. In particular, we are really excited about the outdoor areas which will be sheltered and warm year-round. Inside, we are bringing some very cool design features that haven't been seen at Joe's before that will really take it to the next level. We have family at Wigram Skies and in Aidanfield and we grew up in Halswell. We are going to create a very special place for the community that we are proud of and we can't wait."
Joe's Garage Sumner was named 'the best all-rounder', café in Christchurch by The Press newspaper last year.
Hikari Sushi Bar is founded on a philosophy incorporating traditional Japanese values of exceptional service with the highest quality produce. Co-owner Shawn Kim is excited to be expanding their Queenstown and Dunedin based business into Christchurch.
"Our ambition is to raise the standards of Japanese cuisine in New Zealand. Our arrival is greatly anticipated and welcomed by Cantabrians who have experienced superb dishes and seamless service at our Southern Hikari Sushi Bars."
Unichem Wigram Pharmacy Co-Owners Karen Crisp and Graeme Smith say they are both delighted to have the opportunity to be involved in the development of The Landing from the beginning. Karen and Graeme have both held many leadership roles in the pharmacy profession in Christchurch and nationally. Wigram holds special links to the past for them both.
"We love the sense of tradition which is ingrained with the references to the very special aviation history of this area as well as incorporating the best of modern design. We look forward to supporting the Wigram community and looking after this growing area," Karen Crisp says.
Graeme Smith says their aim is to provide the best experience for customers.
"Pharmacies now provide warfarin monitoring, blood pressure and blood glucose testing, vaccinations and a range of medication support services. It is a challenge to create a pharmacy which has features ranging from safe areas for children to be occupied while caregivers talk to the Pharmacist, is easy to navigate with wheelchairs or mobility scooters, through to private spaces with sound proof walls. Our pharmacy design will ensure patients have access to these services in an environment where they feel safe and well supported."
As well as offering a wide range of skincare, cosmetics, gifts and postal services, the key focus for Unichem Wigram Pharmacy will be providing professional health services.
"We will be working closely with other health providers in the area to ensure the best healthcare for our local community," Karen Crisp says.